A few weeks ago, I received a call asking about a sterling silver garlic clove pendant that opened up and contained a tiny chained, 14K gold bat. Had I had made this remarkable piece of jewelry? The woman on the other end of the line was describing one of Carrie Adell's Garlic and Bat Pendants. It had become her talisman and the gold bat had flown away.
She was undergoing medical treatment and needed her good luck Garlic and Bat charm to carry her back to health. I gave her the sad news that Carrie had passed away but that I was familiar with the piece she was asking about. I also told her that I had not one, but two of the charms….and that strangely enough, the bat on my second pendant had also flown away. (She inquired if I would sell her my remaining gold bat, but I declined.)
I didn't know Carrie well, but our paths crossed many years back at the Gilroy Garlic Festival. We admired each others unique work and made a trade.  Although I don't remember what Carrie chose of my jewelry, my booty was two of her sterling silver garlic clove pendants with the 14K gold bat.
By the end of my conversation with the woman, I agreed that one way or another,  I would recreate the bat for her. Both in honor of Carrie and because I know that this woman needs to be wearing her Garlic and Bat Pendant, I took time today to recreate the tiny bat in wax.  This is a photo of Carrie's original piece and of the wax that I have carved to replicate the missing gold bat.
.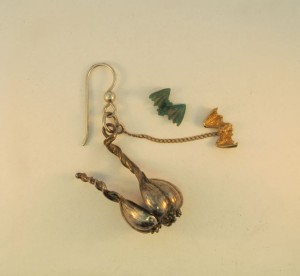 While Carrie Adell's pieces are no longer available, you can view my bat jewelry collection and garlic jewelry collection . I will be at the Gilroy Garlic Festival July 29 – July 31.