This Father's Day weekend, June 18-19, is the NorCal Pirate Festival, a show that we especially look forward to! We are busily adding "golden" doubloons to our pirate chest and packing up fishing nets to decorate our booth.  It's a wonderful event, held on Mare Island along the Vallejo waterfront, complete with Pirate Ships sailing the harbor and exploding cannons. We'll have our complete Pirate Jewelry collection for sale.
The photos above are of Alisha and John and friends.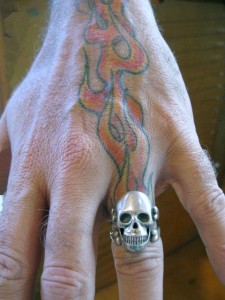 Here is a photo of one of my customers wearing my skull and crossbone ring.  I loved his flame tattoo! We hope you will swagger over for some fun, some booty and we promise that we won't make you walk the plank. Arr!