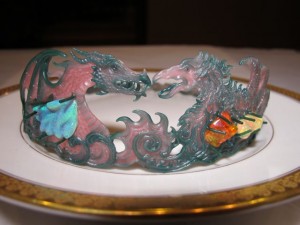 The wax carving for this elaborate commission is nearly complete.  I began working on it in late April and over the last many weeks, have devoted my design time to this project only.  Three stunning opals are incorporated into this piece; one carved Australian Crystal Opal and two Mexican Fire Opals.
I do my best to only take commissions that I feel confident about and I am pleased with the progress of this piece. I receive inquires almost daily about custom designs and I pay attention to these special requests, but it is impossible for me to commit to most of them. Customers occasionally ask if I teach classes in what I do.  Some day, I just may give teaching a whirl but creating a wax model is a slow, methodical process ; one feather, one flame and one dragon scale at a time.
It's not done yet. The wax will now be cast in metal; the wax that I have worked on for weeks will be melted away and replaced with precious metal. Things can go wrong during the lost wax casting process and my original wax sculpture, lost in a puddle, but I take every precaution.  After the piece is cast and polished the gemstones are mounted and beauty is created.