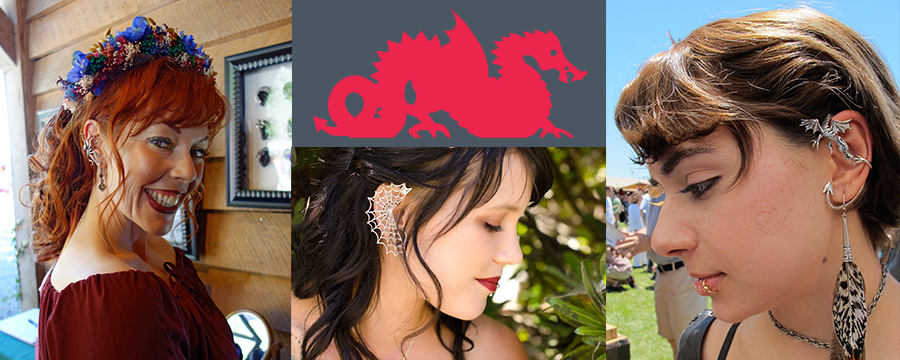 Marty has been designing ear cuffs and ear wraps for 30+ years.  Her ear cuff and ear wrap line has come to represent the "signature style" of Marty Magic. Though there is much talk about this trend on jewelry blog sites today, Marty considers herself and her friend Tabra Tunoa to be pioneers of the current resurgence of ear cuffs and ear wraps that began back in the early 1980s.
The history of ear cuffs and ear wraps goes back centuries — to ancient times, in fact — when they were referred to as "Kaffas" on the British Isles. Kaffas usually featured a large front-facing metal medallion supported by a curved wire that wrapped around the wearer's ear.  If you'd like to learn more about how they developed throughout the centuries and into modern times, you can check out this very thorough post over at the Sophie's Closet Blog. In the 20th century, they've had moments of popularity, but over the past few years, ear cuffs and ear wraps have become almost mainstream.
Tabra began her jewelry career began in Barcelona in the early 1970's where she taught art at an international school and took a night class in jewelry making. When she returned to Berkeley she connected with Esme Hecht from Lunch at the Ritz, an up-and-coming jewelry design company. Both had their own unique sense of style, and they traded days selling their work on the streets of Telegraph Avenue. In a recent email to Marty, Tabra writes that she designed her first "Ear Wrap" for a Renaissance Faire in Marin when she was 35.
"Each one was different, and each one was worn only on one side. I thought two would have been too much – they were very large. It was an immediate hit. I sold an unbelievable amount of them and they were quite expensive."
When Marty met Tabra in late 1979, they both were selling their jewelry at the San Francisco Harvest Festival.
"She was an exotic gypsy woman, an entrepreneur, a successful, talented designer and world traveler – everything that I aspired to be! I don't know if  I was more in awe of her beauty and talent, or the courage she possessed. [She used to travel] to remote villages in 3rd world countries to buy beads from indigenous village women some 40 years ago!"
Tabra's bodacious earrings, and her ear wraps in particular, caught Marty's attention. Soon she found herself imagining her own style of ear wrap.  Some of the first sketches she  drew were of dragons, ocean waves, and flames, and showed off her unique sense of style. Nevertheless, Marty felt that she needed to let Tabra know of her intentions and ask for her approval. Back then, rumors were going around the Harvest Festivals about other jewelers copying Tabra's work…so Marty approached her timidly to discuss her designs.  Tabra was gracious and encouraging:
"When you asked me if you could make ear wraps…I looked at your samples and they weren't really anything like mine at all.  Only the idea of wrapping around the ear and holding on [was the same]. And yours were very beautiful and innovative from the very beginning."
Beginning with her original dragon designs, Marty has developed an extensive line of sculptural and wearable ear jewelry featuring a wide range of both real and mythological creatures. Her first dragon ear wraps were an immediate hit, and since then,  she adds a few new ear cuff designs to her repertoire each year.  Her ear cuff and ear wrap designs have attracted interest from many celebrities such as Prince, Janelle Monáe, Whoopi Goldberg, Tim Burton, Helena Bonham Carter, and Barbara Streisand. Many of them have also ordered custom work from Marty.
The popularity of Marty's designs has also had some unfortunate side effects. In the era of online shopping, overseas manufacturing companies, predominantly in China, are making direct molds of Marty's ear cuff creations. These copies are generally poorly manufactured and lack the intricacies of the originals. Adding insult to injury, many of these manufacturers go so far as to use photos stolen from Marty's website to advertise their inferior products. When Marty first met Tabra, jewelers who felt their designs had been plagiarized could confront the offending retailer directly. Now, however, with the anonymity that comes from online marketing, stopping plagiarism is much more difficult. This costs Marty Magic thousands of dollars in lost sales, and forces Marty and Alisha to spend time every week tracking down and reporting knock-offs on Etsy, Amazon and eBay.
The good news for customers is that it is relatively easy to ensure that your ear cuff or ear wrap is an authentic Marty Magic design. Simply purchase it directly through our website, dedicated Etsy page, or an authorized gallery that represents Marty's work. You can also look for Marty's "MM" signature mark on the piece itself, or give us a call to confirm. Marty's ear cuffs and ear wraps are all her own designs, lost wax cast in solid sterling silver or bronze and made in the U.S.A.
Since meeting over 35 years ago, and with both jewelry design and travel in common, Tabra and Marty have become close friends. "I'm blessed," Marty writes, "that our paths crossed — all those years ago."